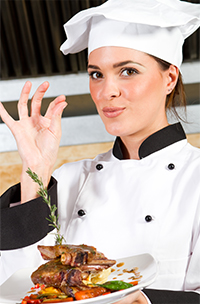 Our Restaurant
Everything starts from dreams
The work is always in a full swing in our kitchen! Everyone here is on fire when it comes to cooking. The best cooks all over the world are gathered here together to create something really special to impress you deeply. The latest in cooking fashion, best recipes and fresh goods, this is the formula of our success.
No less important than a good cook is a good waitress or waiter. As clear as crystal black and white uniform, nice smile, pleasant manners and perfect walk. A friendly waiter or waitress will treat you like Majesty. Well-trained staff knows exactly how to serve the best visitors and how to impress them with a little show.
learn more
Our Staff
AT YOUR SERVICE
Unforgettable Moments
MAKE YOUR EVENT A CULINARY DELIGHT
We've created the best
dining experience for you & your family
If you got interested into Italian style, kitchen and mood - our restaurant is the right place for you. Cooks with a perfect taste, waiters and waitresses with good manners, perfect interior, delicious dishes and the right Italian mood is here at the restaurant. Come and visit us! Make a reservation to one of the best restaurants of Italian cuisine. It is pretty simple to organize a romantic dinner for two or a party for a company of friends or co-workers.
our best features
delightful EXPERIENCE
we are hiring
Join Us Today to have more fun !
We need 01 Chef, 02 Waiters, 01 Event manager and many supporters